Welcome to the online press kit for Kathy Brodsky!


Helping Words
"Stover," author/therapist Kathy Brodsky's fit pig,
promotes family dialogue on how every kid can be healthy
Parents worried about issues such as childhood obesity, bullying and the amount of time children spend plugged in have a friend and ally in Kathy Brodsky, a psychotherapist, poet and author of uplifting children's books. Her new book Stover, about a fit pig who exercises and eats right, is full of "helping words" that gently promote conversations about the issues today facing children and families.
"I've been a clinical social worker for 40 years and about 10 years ago, I started to write," says the New Hampshire-based author and mom of two grown sons whose works are found at www.Helpingwords.com. "All of my books have these wonderful questions in the back of them that pertain to the messages and the story, and they lead to further discussion for parents, teachers, and kids."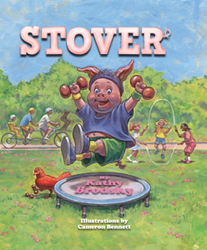 It's no wonder schools have used Kathy's books for week-long lessons. And Stover, featuring an adorable pig intent on staying fit, continues the conversation-starting style that made Kathy's previous books, My Bent Tree (2008) and The Inside Story (2009), hits with kids, parents and teachers.
Little Stover, as envisioned by Kathy and drawn by acclaimed illustrator Cameron Bennett, is "the cutest little pig you've ever seen," Kathy says.
"He's a pig who goes to the gym and he eats in a healthy way. And in the back of the book, we have questions about being fit and eating healthy foods. I think it's the most exciting book I've ever done."
Kathy's philosophy of helping kids and families talk about tough topics through gentle, encouraging "helping words" is summed up on her website — "Live, Laugh, and Learn with Kathy Brodsky." My Bent Tree (based upon the loving support Kathy received from her mom during a childhood battle with polio), The Inside Story and The Winner Is... all gently and playfully teach that diversity is beautiful and each person is valuable. The open-ended questions Kathy poses at the end of each book help parents and kids talk about issues such as bullying, peer pressure, self-esteem and friendship.
Now Stover, a minor character in The Winner Is..., takes center stage. The persistent pig brings Kathy's passion for encouraging healthy family lifestyles into the mix as he shows that anyone – even a pig – can be healthy.
"I wanted to show with Stover that even if you're not skinny-skinny you can be fit and healthy," she says.
An animal lover whose previous book Just Sniffing Around focused on a family's love for their dog, Kathy made Stover a pig to showcase the achievements of underdogs everywhere. Choosing a returning character from a previous book gives kids a comforting reassurance too, she says.
"It's like putting on a comfortable pair of slippers. I think familiarity is something very important for people because we all feel more comfortable with things we're familiar with," she says.
Stover also continues one of Kathy's signature themes started in her first book (for adults) Moments in Our Lives (2004): Everything in life is connected.
"You never know where something can lead, and one thing leads to the next which leads to the next," she says.
Visit Kathy Brodsky's public website at: www.Helpingwords.com
Download Kathy Brodsky's One Pager.
Media Contact is Michelle Tennant: Michelle@publicityresults.com, 828-749-3200. or blog www.StorytellerToTheMedia.com